ACOUSTIC GUITAR FOR CONTEMPORARY PLAYERS - BOOK I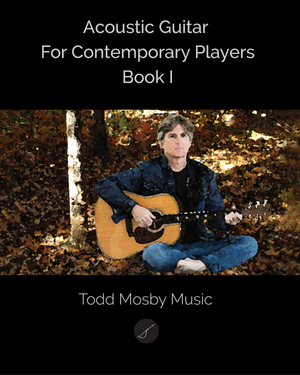 ACOUSTIC GUITAR FOR CONTEMPORARY PLAYERS - BOOK I
Learning to master simple aspects of guitar playing becomes a monumental task for most and overwhelming for many. Thanks to the number of method books sending the same message of unconnected dots, missing information and confusion to uninformed teachers, this problem is only exemplified.
Fortunately, Mosby has cracked the code for a proven, systematic approach to developing acoustic guitar technique which allows easy access to a methodical approach based on a few simple ideas and a solid foundation in the basics of music.
The highlighted skills are built off a few simple principles which build strong, connected relationships. Comprehensive yet easy to follow, each unique study is packed with a life time of information. Eight basic chords and their related studies is all that is needed to develop the skill set necessary for personal style and expanded expression.
"The layout and presentation of this book is well thought out, methodical and easy to follow. Any student at any level will find it easy access…"
Dr. Roland Jordan, Composer / Music Theorist Professor, Washington University